Super Plus is a specialist provider of accounting, tax, administration, compliance and related services to trustees and financial professionals in the area of self-managed superannuation. We specialise in SMSFs.

We've been helping people control their self SMSFs for more than a decade!
We have clients throughout Australia and have been providing SMSF services for more than 15 years.  You want a SMSF for flexibility, control and choice, so why not use a provider that recognizes its your super?
The Super Plus business approach is to provide trustees and financial professionals, such as accountants and financial planners, with a full SMSF service that covers all aspects of running a SMSF.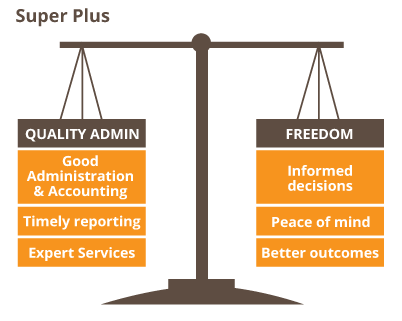 Our Services

Fund establishments

Collection of client records – i.e. mail-house

Daily administration

Monthly fund reconciliations

Compliance monitoring

Online investment reports 24/7

Pension establishment

Ongoing pension management

Annual financial statements & tax returns

Trust deed services

Corporate trustee services

Facilitation of independent audit services

Facilitation of independent actuarial services

QROPS registration (UK pension transfers) Currently suspended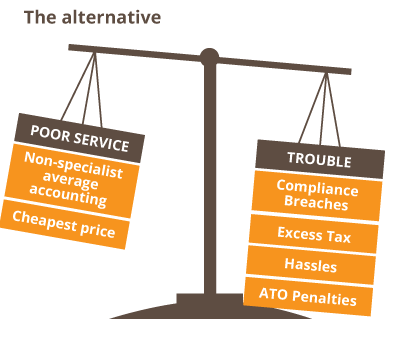 Our Mission Statement
To deliver all clients, regardless of fund size, a level of service that consistently exceeds expectations of both trustees and their professional advisers.
In all aspects of Super Plus service delivery, we aim to encompass the core values of:
Core Values

Transparency

Accountability

Efficiency

Flexibility

Integrity

Fairness
These core values are not just the values we have as a company but those which all our employees are encouraged to passionately embrace.
Our Approach
At Super Plus we only provide SMSF services, so we are good at it. We don't try to be all things to all people. The operation of an SMSF can be complex, requiring experience that encompasses a sound knowledge of SMSF accounting, superannuation, tax and legal compliance requirements.
You should choose Super Plus as your SMSF partner because we care about what we do for you and hold ourselves accountable for the services we provide to you.
Advantages you get by using Super Plus

Your SMSF is always up to date

Minimisation of excess contributions

Pension commencement at any time

Up to date reports

Accurate tax reporting of ATO instalments

Accurate up to date Centrelink information (for applicable members)

Minimisation of compliance problems

Resource Centre