The Super Plus advantage
Not every SMSF is the same, each is unique to the style of the trustees. So why use a service that doesn't provide the full flexibility and services your SMSF could need. You have a SMSF for flexibility, choice and control!
We are a full service SMSF provider, which means we don't deliver half a service. We  promise and deliver the full range of SMSF services, for both your current and your future requirements.
The continuous accounting cycle
We operate on an ongoing continuous accounting cycle, not an annual or "once a year" basis.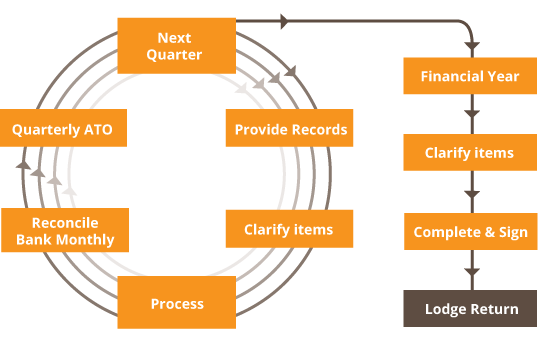 Therefore, we process transactions and review compliance matters for your SMSF continuously throughout the year. This offers huge benefits over processing your fund once a year.
Continuous Accounting Advantages
Always up to date
Issues identified early (minimises compliance issues)
Regular reporting
Planning based on up to date information
More effective decisions
Better cash flow management
Realised gains/losses reports current and up to date
Regular income per investment analysis is possible
Accurate quarterly tax calculation and payment
Compare the alternative, Super Plus services vs 'once a year' or 'adhoc' provider;
Structure
        Super          Plus
Annual Provider (normal accountant service)
Direct Shares
Retail Managed Funds
Wholesale Managed Funds
Direct Property
Non-Standard Investments
?
Limited Recourse Borrowing (Security trust structure)
?
Complying Pensions – Grandfathered
?
Pensions – Account Based & Transition to Retirement
 / ?
Reserve Accounts
?
QROPS Registration & Operation (for UK Pension transfers)
?
Accumulation & Pension in same fund
 / ?
Fixed Fee
?
Fund Establishment
Trust Deeds & Minutes
 / ?
ABN, TFN, GST Registrations (GST-if required)
 / ?
Turnaround time of new orders – 5 days
?
Corporate (Company) Establishments
 / ?
Trust Deeds
Standard Deed or Deed of your choice
?
Change between individuals and Corporate Trustee
?
Deed of Appointment / Resignation
?
Deed Upgrades
?
Lost Deed Replacements
?
Pensions
Pensions Commencement – At anytime during the year
?
Pension Calculations
 / ?
Annual Pension Adjustment
?
Centrelink Schedules
?
Actuarial Certificates
 / ?
Reporting
Financial Reports Preperation
Tax Return Preperation & Lodgement
Adhoc Reporting
?
Quarterly Reports
?
Online Reports
?
Member Reports at any time
?
House Keeping
Sample Investment Strategy
?
Mailing Address
?
IAS / PAYG / BAS Returns
 / ?
Monthly Bank Account Reconciliations
?
Direct Tax Payments
?
Independent Audit
 / ?